Service Groups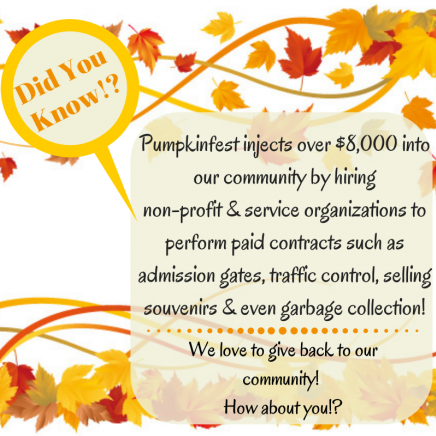 Service Groups that will be at Pumpkinfest 2017:
1st Saugeen Shores Pathfinders & Rangers
Bruce Shine Club
Coping and Bereavement Support Groups of Ontario Inc.
Friend of MacGregor Point Provinical Park
Grey Bruce Motorcycle Touring Club
Kids Street Nursery
Lucan Biddulph Recreation Committee
Adpot-A-Pet
Port Elgin United Church
Saugeen Memorial Hospital Foundation
Saugeen Shores Heritage Committee
Southampton Marine Heritage Society
School Bus Drivers/Unifor Local 4268
Bruce County 150th Trailer
Escarpment Biosphere Conservancy
Port Elgin & District Lions Club
Saugeen Grannies
Port Elgin Pumpkinfest encourages Non-Profit Organizations to fundraise during the festival weekend in unique and creative ways.
Groups not wishing to perform a fee for service contract are encouraged to be creative in their fundraising activities by supplying an attraction to the festival. Such examples of this include a paintball booth, a puppet show, and a motorcycle show, as well as numerous raffles and barbeques.
The festival provides exposure to almost 60,000 people over the two days to create a spectacular fundraising venue. In the past years, close to 40 different non-profit organizations (with well over 300 volunteers combined), chose to fundraise at Port Elgin Pumpkinfest collecting over $40,000 each year, which stayed in our community to benefit various causes.
For more information about fundraising opportunities, please contact ac.serohsneeguas@tsefnikpmup